Meet Pastor Trevor Johnson
CEO of Trevor Johnson Ministries and Senior Pastor of Rhema Word Bible Church in Long Beach, California.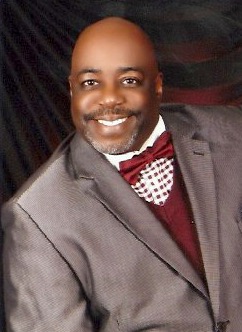 Pastor Trevor Johnson is a passionate and influential leader who serves humanity in several leadership capacities. CEO of Trevor Johnson Ministries, Senior Pastor of Rhema Word Bible Church in Long Beach, California, and Executive Director of The Leading Man Institute are the main roles he currently fulfills.
With an expertise in leadership development engages, inspires, and empowers people to become the best versions of themself and helps organizations bring out the best in their leadership teams on a personal and professional level.
As a Senior Pastor, Pastor Trevor mentors and coaches other Pastors, leads TJM and Rhema Word Bible Church leadership teams and members to higher spiritual purposes through servant leadership.
The Leading Man Institute is the most recent endeavor which Pastor Trevor has enthusiastically taken on serving in the role of Executive Director. This organization focuses on building a community where professional men can have brotherhood, a safe place to be vulnerable, strengthened, and inspired to elevate and become extraordinary.
Pastor Johnson continues to assist individuals, ministries, and organizations in reaching maximum efficiency through workshops , inspirational, and motivational speaking, personal and professional coaching and mentorship.
He is an excellent communicator and is sought out for his wisdom and inspirational public speaking.
Pastor Trevor is a beloved husband and father and believes in living the greatest life possible through biblical, practical principles and solution based best practices!